10 ways to turn kids art into another unique gift
My daughter's first people drawing at 3 years old was a masterpiece. We printed it on canvas and then hung it up on the wall.
She's gone on to fine-tune her skills, adding things like hands. And hair. And smiley faces. And hair bows, tiaras and unicorns. (She's 5 now and only likes to draw girls.)
That innocent, simple style that grownups ape in cheesy greeting cards is sure to fade away. So I hold on to all her drawings and doodles, the birthday cards she makes for family and friends, and even photos of her sidewalk chalk sketches or surreptitious furniture sketches. (Who's with me? Oh, no one else except the grandparents? Okay. Ya. I'm still so proud of her!)
Then I started noticing how many sites turn your kids art into, well, more art. Very cool, really. I wouldn't mind a key chain of the above image. So, I decided to do a round-up of neato stuff I found for customizing kids art a bit further. I'm staying away from the usual canvas prints, t-shirts, cards, etc. If you want to preserve that childhood creativity, these look like excellent sites that turn your child's art into a product that, yes, you'll have to spend money on. But so cute, personal and memorable!
Child's Own Studio: Turn your kid's drawing into a stuffed animal. Price: $90 and $140 plus shipping.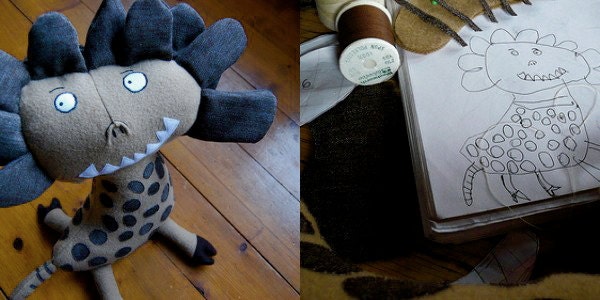 Here's another artist, LizetteGreco, who turns your child's drawing into a soft toy. No waiting list at her Etsy store but it'll set you back $400. Nice work!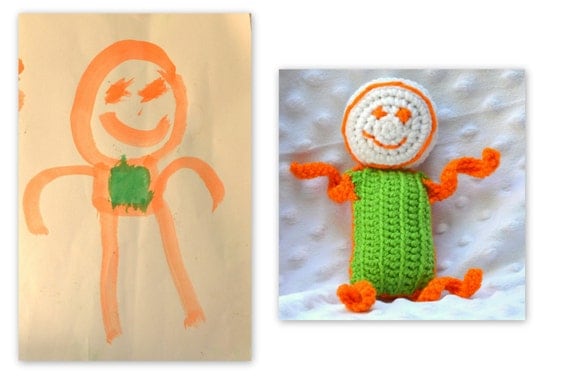 Another twist on the art-turned-soft toy is an art-turned-soft crochet toy by Geekabye Baby, which specializes in geeky baby clothes. Just $50.
Mia Van Beek, a jewelry designer from Sweden, turns children's doodles into the cutest charms ever! Details on how to order over at her company, Formia Design.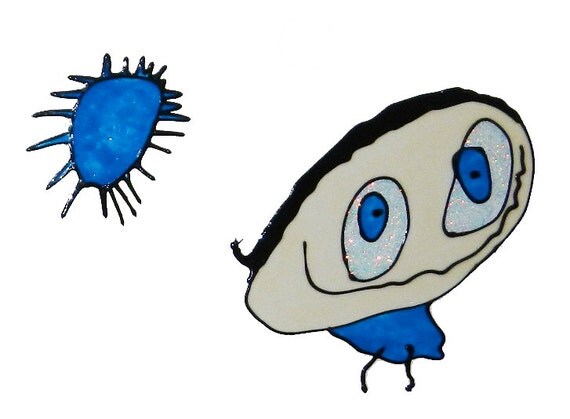 Love this art decal that sticks to — and peels off — windows and walls. Just send a digital image of the doodle to Galitis over on Etsy. Only $14.90.
Personal and useful! Turn art into stamps over at Picture It Postage. Various sizes available.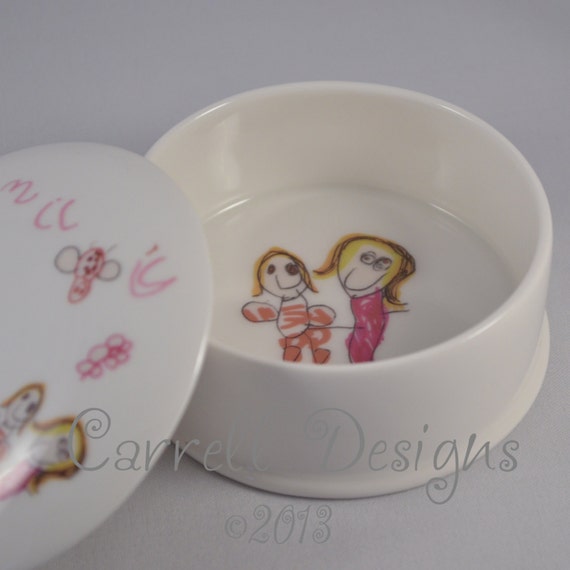 Custom trinket box (because we all need another one of those) makes good use of child's art. Surprise! Send a digital image and Rhona Carrell (on Etsy) will do the rest for $64.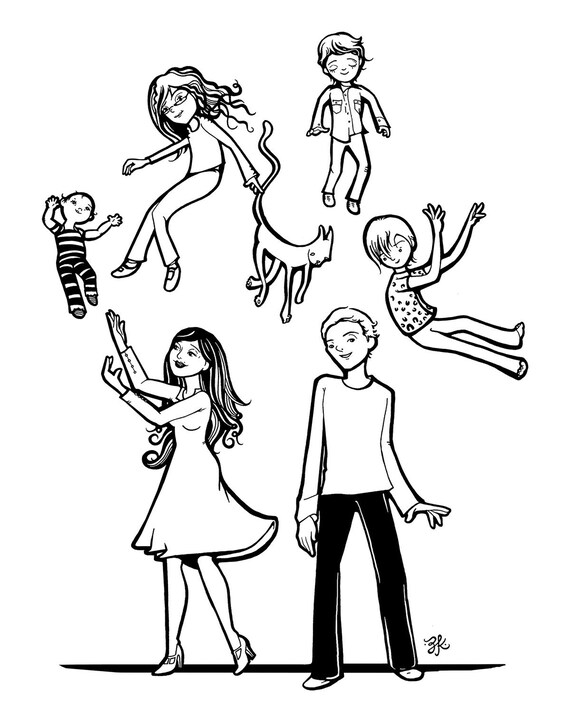 Custom family drawings by Zshanna Kristoff, a mother and Denver-based artist who sells on Etsy. …read more
Source: Oblivious MaMa